Both Burger King and McDonald's are on an upswing. Does one stand tall over the other?
Both McDonald's and Burger King have been doing well lately from a sales perspective. In the case of McDonald's, all-day breakfast really does work. McDonald's has been on a sales tear as of late, reporting a 5.4% U.S. same-store sales jump during the first quarter. The fast-food giant's turnaround began during last year's third quarter, when it reversed a two-year trend of decreased sales volume. Additionally, McDonald's is well on its way to achieving its goal of having a 95-percent franchised portfolio, which executives say will fuel stronger economic results.
Well, apparently hot dogs work, too. Executives at Restaurant Brands International, which owns the chain, said that Burger King's first-quarter same-store sales jump of 4.6 percent was due, in large part, to the menu addition. Meanwhile, for all of 2015, Burger King's same-store sales were up a strong 5.4%.
On the capitalization-rate front, McDonald's stores, which sell for an average of just over $2.1 million, have a little more investor demand. The 12-month average cap rates for sales of its units, which are usually 4,000 square feet, come in at 4.22 percent. Meanwhile, Burger Kings have cap-rate averages over the last year of 6.08 percent. Its restaurants, averaging 3,000 square feet, usually trade for between $825,000 and $2 million.
Meanwhile, on the credit-rating front, McDonald's is doing a bit better as well, with a "Baa1" from Moody's, and it gets a "BBB+" from Standard & Poor's. Burger King comes in at a "B+" from Standard & Poor's. (Moody's information on the chain was not available for the chain.) To read more about the definitions of these ratings, click here.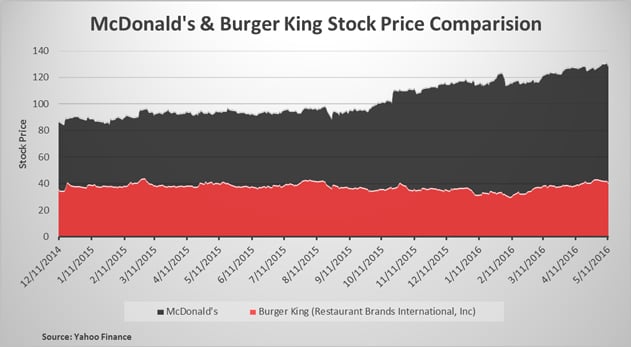 The stock price of McDonald's (MCD) is also trending higher, as of late, and historically, during the last year and a half. (See graph).  It was recently hovering around its 52-week high of just under $132 per share. Burger King (QSR) has also been near its 52-week high of $44.60.
In summary, both of these are very good net lease tenants and should be in the near future as well. McDonald's and Burger King look like good bets depending on investors' financial preferences.