With the holiday season in full swing, the country will be waiting to see if the Fed will increase interest rates during their meeting on December 14th. Following Trump's presidential election victory, we have seen a surge in S&P, Dow Jones, and Nasdaq.  The Dollar has also advanced and we've seen a rise in bond yields.  Meanwhile, cap rates have continued to compress this year, with some STNL properties trading at record low cap rates. Clearly, that trend can't hold on for much longer, a tune we've all been singing for a while.
A major indicator for a rate hike is inflation, which is getting close to Fed's target rate of 2%.  The unemployment rate dipped to 4.9% in October, evidencing near full employment. In the 12 months ending in October, CPI advanced by 1.6%. Consumer confidence is also up.  The FedWatch Tool published by the CME Group shows that, should there be a rate move in December, there is a 96.3% chance that the target rate will be in the 50-75 bps range and just a 3.7% chance that the range will be in 25-50 bps.
The average cap rates for STNL through 2016 Q3 was 6.34%, a 20 bps drop year-to-date. Stores such as McDonald's and Chick-fil-A traded around a 4% cap rate this year, with caps in the mid to high 3% in California and Florida. The ten-year T-Bills closed at 2.31% on November 29, 2016.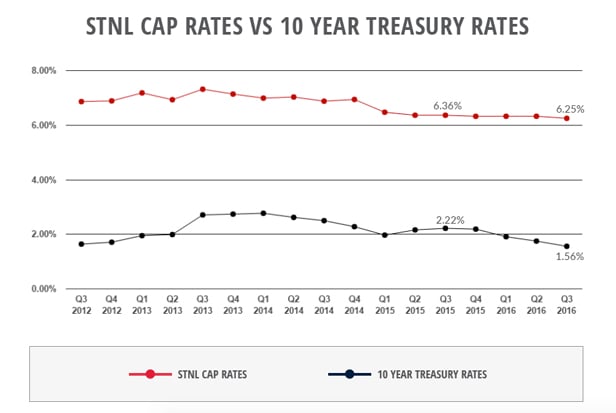 Healthy economic data suggests that an interest rate hike is imminent with a strong possibility of that occurring in the coming weeks.  We expect cap rates to mirror interest rate movements and see cap rates growth in the next year, particularly since we are already at a historic all-time low.
Read story at GlobeSt.com